Primary Care Network Survey
Primary Care Networks are groups of GP practices working together as a network, and they are commissioned to deliver Enhanced Services. Enhanced Services are provided over and above the core 8am-6:30pm contract.
Primary Care Networks have been asked to undertake patient engagement to ensure any new services meet the needs of the local population. It is proposed that any changes to services outside of the core 8am-6:30pm contact will be in place by October 2022.
Your GP practice or Primary Care Network may already offer Enhanced Services and if this is the case then this survery will be an opportunity to check that the services offered best meet your needs.
We would be most grateful if you could take the time to complete a short survey by either clicking the QR code or by using this link: https://www.surveymonkey.co.uk/r/EnhancedAccessServicesSurvey
If you have any questions about this survey or would like to provide feedback in another way then please contact the Joined up Care Derbyshire engagement team ddccg.engagement@nhs.net
You can learn more about Joined up Care Derbyshire here https://joinedupcarederbyshire.co.uk/
Please see the poster relating to the survery below.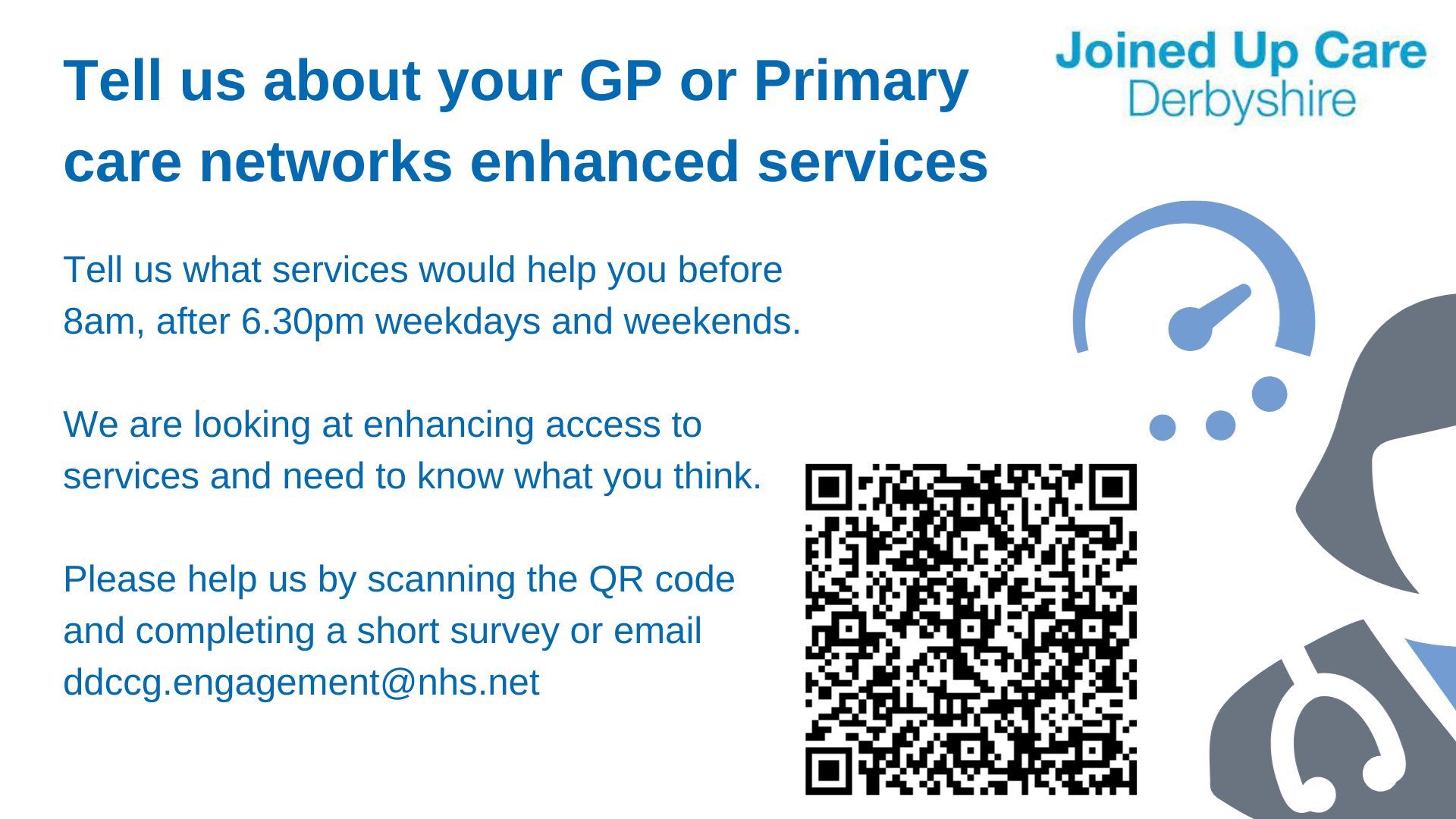 Fraud Alert - Covid-19 Text Messages
Please see the below for the false covid text scam that is currently in circulation.

False Covid text asking patient to order test kits.
We have been notified of a text scam that has been sent to patients purporting to be from their GP practice. The text could easily be mistaken as a legitimate notification as the recipient's mobile will show the text grouped with legitimate texts from their own GP practice.

The message advises them that they have been in close contact with someone who has tested positive for Omicron and that they must order a test kit using a link within the text. The link then asks for a payment of £0.99 for postage.

Patients should be vigilant to avoid providing personal information such as bank details to fraudsters.
24/7, wherever you are, the app lets you conveniently order repeat prescriptions, view your GP medical record, and quickly check symptoms.
You can also book, cancel and track appointments at your GP surgery with ease. And access to NHS 111 online means no more wondering if you need urgent attention.
It's free and owned by the NHS so you know your personal data is always secure. You can find it in in Google and Apple app stores.
Your NHS, your way. Download the NHS App.
Download the NHS App on the Apple app store.